Three books for the price of two!
The Forbidden Love series bundle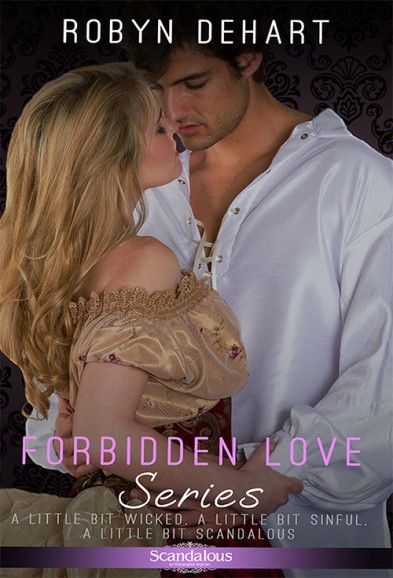 A Little Bit Wicked
A Little Bit Sinful
A Little Bit Scandalous
Three unconventional women determined to live life on their own terms and the three men determined to possess them.
Set against the glittering backdrop of Victorian Society come three stories of forbidden love. Roguish Marcus Kincaid is hell-bent on seducing Vivian March, but what will he do when he discovers she's a fallen woman? Prim and proper Clarissa Kincaid fancies herself in love with the perfect candidate for marriage, but then why does she keep falling into the wicked embrace of gaming hell owner, Justin Rodale? Mathematics prodigy Caroline Jellico uses her skills to best all the men in London, but when it comes to her guardian, Monroe Grisham, she just might lose her heart.
Also available
A Little Bit Scandalous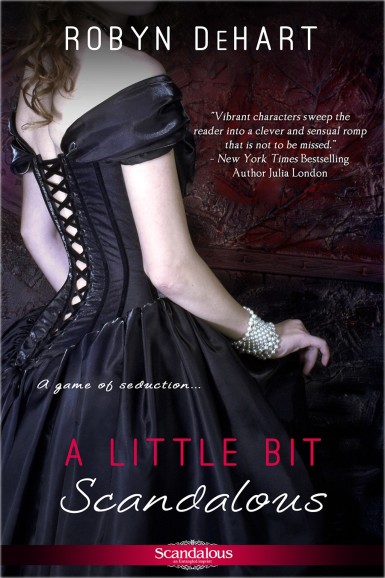 A woman in search of a gamble…
Mathematics prodigy, Caroline Jellico, plans to support herself by winning big in the gaming hells of London—while dressed as a boy. She's tired of waiting for the elusive Roe to notice her. She'll marry him or no man.
A gambler in need of redemption…
Monroe Grisham, Duke of Chanceworth, needs to marry off his beautiful young ward and ensure she attaches herself to the right man, not an irresponsible cad like him. But all grown up now, Caroline's presence is an utter distraction. One he can neither act on nor deny.
A game of seduction…
But when Roe and Caroline meet across the gaming table, all bets are off. Seduction is in the cards and the winner will take all…or lose everything.
The Secrets of Mia Danvers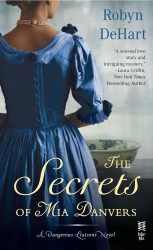 Since losing her sight in a childhood accident, Mia Danvers has resided in a small cottage on the vast Carrington estate. Thought to be dead, Mia lives a life of virtual seclusion—until one night, while walking home, she happens upon a horrendous crime. 
Alex Foster, Eighth Duke of Carrington, lives according to society's expectations for him. He's never met the woman who lives in the cottage at the edge of his property. But when she arrives at his door in the pouring rain terrified and claiming she has witnessed a murder, she seizes his attention. 
Mia is determined to help the authorities track down the culprit, even though the only person willing to accept her aid is the handsome, arrogant duke. Working closely together proves difficult as Mia's beauty and independence tempts Alex to ignore convention and follow his desire. But what neither of them know is that this murderer has struck before in Whitechapel, taunting the British press only to vanish—a ruthless killer who knows that Mia is the only living witness to his crime…
A Little Bit Sinful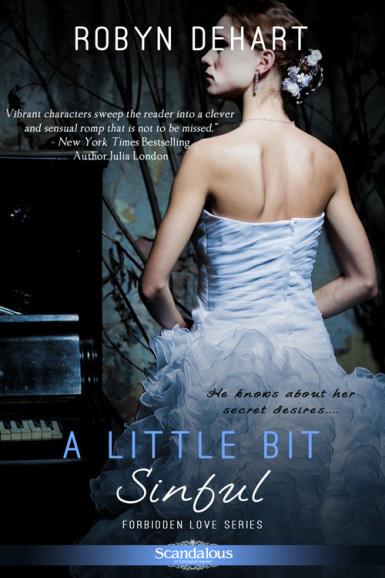 Justin Rodale is the wealthy bastard son of the Duke of Chanceworth. He owns the most lucrative and luxurious gaming establishment and caters to London's elite. Educated with the rest of the aristocrats, he knows all the rules by which Society lives, but he is beholden to no one.
Clarissa Kincaid has been raised to be the perfect English lady. She knows precisely the sort of match she should make and she's fairly certain she's found that with a respectable gentleman. But the man won't commit and she finds herself seeking assistance in the form of seduction lessons from Justin.
This is a challenge the charming Justin can not resist. She may think that he knows nothing about her needs, but he's determined to show her that he knows plenty about her secret desires. He has no intention of publicly ruining the girl, but he's determined to privately tempt her into some slightly sinful behavior.
A Little Bit Wicked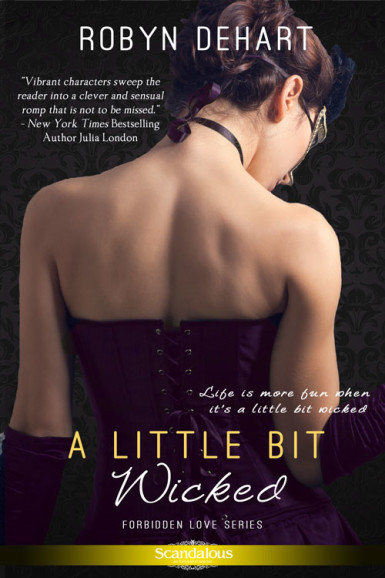 Marcus Kincaid has returned to England after a ten-year absence as the Earl of Ashford after his brother's untimely death. Unfortunately, his younger sister is embroiled in a potential scandal that could ruin her chance at marriage, and his aunt has already called in reinforcements—The Paragon.
Vivian March is known simply as The Paragon. She moves through every circle within Society, smoothing out scandals and stopping gossip in its tracks. Everyone in London knows that if she aligns herself with you, Society will forgive your sins. What they don't know is that she uses their secrets to cover her own jaded past.
But with every kiss and every touch that Marcus thrusts upon her, Vivian comes to believe life is infinitely more fun when you can be just a little bit wicked…
---
Coming Soon… 
Masquerading Mistresses Novella 1: No Ordinary Mistress – Feb. 2014
---
Welcome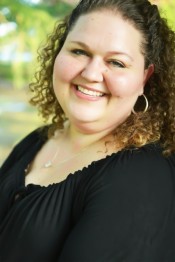 Welcome to my home here in the big wide internet. If you've been here before, welcome. I have lots of goodies here, articles for aspiring authors (which I swear I will add new ones soon!), insider info on my books including excerpts, reviews, awards and pictures of hot guys. Come on, I know that's why you're really here.
Robyn's Chatterbox is my blog that frankly I haven't been great about updating, but I'm changing that. You'll find all the new and up to date info there as far as what I'm working on and news about my books, etc.
Thanks again for stopping by,
Robyn
---