Out now! 
The Scoundrel and the Lady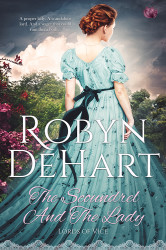 Lords of Vice: Book one
A proper lady. A scandalous lord. A wager that could ruin them both… 
Iris Bennington is furious when she discovers her younger brother is following the instructions found in the acclaimed advice columns on How to be a Gentleman. The so- called "advice" is more likely to turn her brother into a scoundrel than a true gentleman. Iris decides to locate the author of the columns and confront him.
Merritt Steel, the Earl of Ashby, cannot help but be amused by the slip of a woman who comes calling. Unwilling to let such a delightful potential conquest go, he proposes a wager: bring him anyone off the street and he can pass them off as a gentleman. It's a bargain she readily accepts—but with a twist.
Their bargain proves to be a greater challenge than either anticipated. Merritt finds it near impossible to keep his hands off Iris, and she begins to see the undeniable appeal of ungentlemanly behavior… 
---
Don't miss the Brotherhood of the Sword series…
Undercover With the Earl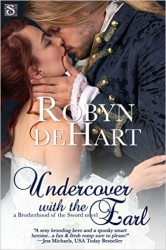 To capture the most eligible bachelor in London…

London, 1838

The handsome Earl of Somersby may just be the most eligible bachelor in London, but has no interest in a wife. As a member of the Brotherhood, Bennett Haile is far more vested in his undercover duties for the crown and protecting the Queen from would-be assassins. For now he has the perfect tool with which to lure out the villains-a young woman with an uncanny likeness to the queen.

The spirited Evelyn Marrington is about to live out every country girl's dream-becoming royalty overnight. Under the tutelage of the arrogant Earl of Somersby, she'll have to fool the entire court that she is, in fact, the queen. But as danger threatens from every side, Bennett realizes that his lovely little protegé isn't just placing her life in his hands… She's stealing his heart.
Dueling With the Duke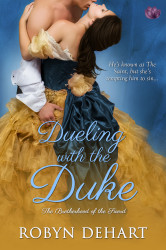 The 2nd book the Brotherhood of the Sword series
He's known as The Saint, but she's tempting him to sin…
London, 1838
Gabriel Campbell, Duke of Lynford never intended to carry that title, but when his reckless brother gets himself killed in a duel over a woman, Gabe has no choice. Now he's sworn off love, blaming the woman that broke his brother's heart and led to his untimely death. 
Lilith Crisp, Lady Thornton, knew from a young age that pretty girls grow up and get married off to the highest bidder. Being paraded around London as her husband's trophy has taught her some unique skills and now she can manipulate any man for his darkest secrets. Gabriel's position in the Brotherhood of the Sword leads him directly to Lilith's door. 
For Gabe, Lilith is the one woman he's always wanted, and Lilith is now forced to deal with a man who seems immune to her charms. But a secret about Lilith's niece brings them together to face a danger that threatens not only their lives, but the fate of England's Crown. Resisting Lilith is getting more and more difficult and Gave finally recognizes that he can't keep blaming her for his brother's fate. Finding love means forgiving the past and that might be the only thing they simply can't do…
Eloping With the Princess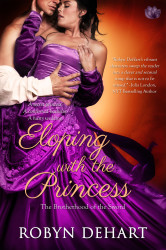 A secret princess. A confirmed bachelor. A hasty wedding.
When a fellow member of the Brotherhood of the Sword drops off a mysterious lady in need of protection at the house of Viscount Jason Ellis, he agrees to keep her safe not fully knowing what that will entail. Once Isabel Crisp learns the truth of her identity, that she's the last remaining member of the royal family from the island nation of Saldania, her world is tipped upside down.
A plot to usurp the throne from Victoria after a marriage comes to light. Isabel realizes rather quickly that if she were already married the men would not succeed with their plan.  Jason reluctantly agrees to marry her, but in name only as he's bound to learn the title to his brother's son, the rightful heir. But keeping his hands off his tempting and willing wife proves too difficult and the passion between them ignites. 
---
Also Available! 
First two books in my Dangerous Liaisons series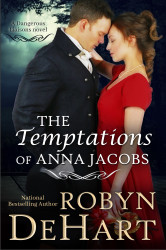 The Temptations of Anna Jacobs
Welcome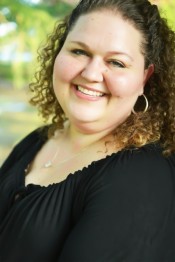 Welcome to my home here in the big wide internet. If you've been here before, welcome. I have lots of goodies here, articles for aspiring authors (which I swear I will add new ones soon!), insider info on my books including excerpts, reviews, awards and pictures of hot guys. Come on, I know that's why you're really here.
Robyn's Chatterbox is my blog that frankly I haven't been great about updating, but I'm changing that. You'll find all the new and up to date info there as far as what I'm working on and news about my books, etc.
Thanks again for stopping by,
Robyn
---