Out Now! 
Dueling With the Duke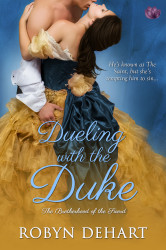 The 2nd book the Brotherhood of the Sword series
He's known as The Saint, but she's tempting him to sin…
London, 1838
Gabriel Campbell, Duke of Lynford never intended to carry that title, but when his reckless brother gets himself killed in a duel over a woman, Gabe has no choice. Now he's sworn off love, blaming the woman that broke his brother's heart and led to his untimely death. 
Lilith Crisp, Lady Thornton, knew from a young age that pretty girls grow up and get married off to the highest bidder. Being paraded around London as her husband's trophy has taught her some unique skills and now she can manipulate any man for his darkest secrets. Gabriel's position in the Brotherhood of the Sword leads him directly to Lilith's door. 
For Gabe, Lilith is the one woman he's always wanted, and Lilith is now forced to deal with a man who seems immune to her charms. But a secret about Lilith's niece brings them together to face a danger that threatens not only their lives, but the fate of England's Crown. Resisting Lilith is getting more and more difficult and Gave finally recognizes that he can't keep blaming her for his brother's fate. Finding love means forgiving the past and that might be the only thing they simply can't do…
Don't miss the 1st book in the series…
Undercover With the Earl
---
Also Available!