A Little Bit Sinful
Forbidden Love Series: Book Two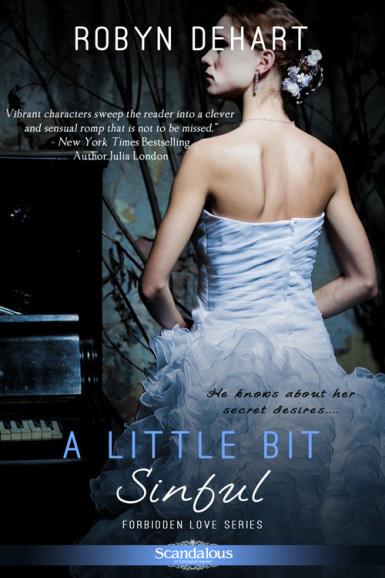 Justin Rodale is the wealthy bastard son of the Duke of Chanceworth. He owns the most lucrative and luxurious gaming establishment and caters to London's elite. Educated with the rest of the aristocrats, he knows all the rules by which Society lives, but he is beholden to no one.
Clarissa Kincaid has been raised to be the perfect English lady. She knows precisely the sort of match she should make and she's fairly certain she's found that with a respectable gentleman. But the man won't commit and she finds herself seeking assistance in the form of seduction lessons from Justin.
This is a challenge the charming Justin can not resist. She may think that he knows nothing about her needs, but he's determined to show her that he knows plenty about her secret desires. He has no intention of publicly ruining the girl, but he's determined to privately tempt her into some slightly sinful behavior.
---
Notable Raves
"Vulnerability and passion combine in Robyn DeHart's A Little Bit Sinful. I couldn't put it down!" ~Anne Mallory, USA Today Bestselling Author
"For a romp through London's ballrooms "A Little Bit Sinful" is a great choice. The characters are engaging with just the right amount of passion and a bit of sinful behavior." – MyBookAddictionReviews
"…heart-warming and funny…I really recommend this book for all the romantics out there" – NovelReflections
"A little bit sinful is full of genuine charm, emotion, and plot twists. Justin is in the top 5 on my book husband/boyfriend list. This was a sweet, spicy read with memorable characters and interesting plot twists". – Cocktails & Books
"Mmmm. Sometimes being A Little Bit Sinful is a very, very good thing. This was my second time reading DeHart and I'm definitely a fan at this point. She writes such entertaining characters that are a little bit scandalous and a little bit, well, sinful. And that are completely charming and absolutely addictive. - Herding Cats & Burning Soup
---
Ahh, Temptation…
Clarissa had selected her attire with great care. She knew that during this particular outing she could not draw attention to herself, so she'd donned one of her black mourning dresses and a hat large enough to cover most of her face. When she'd purchased the hat, it had come with too much plumage and she'd ripped out the feathers leaving it a simple black hat with cream-colored chiffon ribbons. Even as modest as the hat was, she worried she'd stand out too much. She fretted over the hat the entire carriage ride.
Nerves beat wildly inside her stomach. This was not something she would normally do, going to visit a gaming hell, but she had no other choice. There was even an ancient proverb suggesting such a thing, requiring desperate measures during desperate times. The carriage rolled to a stop. She sat still, hands folded in her lap. Men's voices filled the street that awaited her.
The driver opened the door to the carriage and she did her best to gather her wits. She swallowed, willing herself to be brave. This was something that had to be done, especially if she wanted to be married by the end of the Season.
---
Under The Covers
coming soon…
---
Foreign Publications
---
Share this page