A Study in Scandal
Ladies' Amateur Sleuth Society series: Book One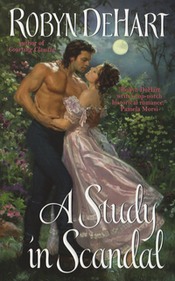 Lady Amelia Watersfield's light-hearted detecting club becomes more than simply an intriguing diversion when her father's priceless Egyptian artifact is stolen under her very nose. Now the game is afoot in earnest – and Amelia nearly swoons to discover the detective assigned to "assist" her is a handsome, brilliant, and breathtaking investigator who might as well be a young Sherlock Holmes himself!
Inspector Colin Brindley has no interest in encouraging a meddling beauty who imagines herself Watson to his Holmes. But Amelia is as sharp-witted and brave as she is lovely – and in their wild hunt for an elusive thief, Colin's heart may end up being the precious object that's gotten truly purloined.
---
Notable Raves
"…the duo's love affair (is) at turns competitive, comical and sexy … the ensuing sex scenes are steamy enough to satisfy while awaiting the next clue."
– Publishers Weekly
"… both invigorating and filled with emotion. Entertaining and engaging, A STUDY IN SCANDAL may remind some of Amanda Quick's earlier work. The characters and story, though, are absolutely unique with Robyn DeHart's quirky knack for spinning a tale. As this is only her second book, I can only imagine what else she has in store for us and will be snatching up any future releases once they hit the shelves…"
– Romance Reviews Today
"a delightful and very spunky heroine… (hero) comes across as a very complex man who is capable of deep heart-felt emotions. The dialogue between them can be fast and furious. The storyline moves at a quick pace as we follow the two leads on their search … a great start for this series."
– The Road to Romance
"A STUDY IN SCANDAL is an adventurous, endearing, and superbly sensual read. Amelia and Colin are passionate, intelligent, and relatable. Their relationship is infused with enough heat, that it is almost combustible. It will grab your interest, and hold it from beginning to satisfying end. This book has it all, romance, mystery, and exceedingly clever characters. After all, there would be few things more scandalous than allowing this enticing novel to go unread."
– Romance Junkies
"Robyn DeHart pens the first in a series featuring the unconventional women of the Ladies Amateur Sleuth Society. With ease, she merges humor, mystery and romance in an enchanting mix…"
– Fresh Fiction
"The case is fascinating and the possible motives intriguing, but the passion between them sizzles as they, and the ladies of the society place themselves in danger to ferret out a ruthless thief. DeHart combines humor, passion and a delightful mystery to charm readers with an enjoyable tale. Her clever balancing of suspense and romance holds readers' attention and will have you wondering what her ladies will be up to next."
– Romantic Times Bookblub, 4 stars
---
Ahh, Temptation…
Amelia stepped closer to the inspector who was making his way around the office, looking at everything, but touching nothing. He stopped to examine a display of Egyptian pottery, wrote something in his notebook, then moved on. He made no indication that he felt her presence behind him. Instead he kept his broad back to her.
"Inspector," she ventured closer to him until she stood directly behind his shoulder. "My father gets upset rather easily, and I'm afraid it's not good for his heart. I believe any more questions will need to be directed to me."
He turned abruptly and nearly bumped into her. He took a step backwards. "I can come back at a better time for your father," he said.
"He's always a bit frazzled and more than likely won't be in a position to better answer your questions. He is not taking Nefertiti's absence well and I'm afraid he'll only become worse as the time increases. It is no bother for me to assist. I am as familiar with the artifact as my father."
He cocked his left eyebrow. "Indeed? Did you steal it?"
She giggled and waited for him to do the same, but there was no response. He merely stood there with the same expression, as if waiting for her to respond. As if he was quite serious in asking her such a question.
---
Under The Covers
I had the idea for this book about a year before writing Courting Claudia – basically I wanted to write a book about a woman who was smitten with Sherlock Holmes. This decided my time period since Doyle's short stories began printing in The Strand in the early 1890s.
While I was digging for information on Sherlock Holmes, I came across information that became Colin's research. It appeared that about this same time a new science was emerging, a science we now know to be forensics. While it was quite different from the gadgets and sophisticated databases we have now, they were beginning to use ballistics and blood spatter as ways to hunt for criminals. This was all very interesting to me since I studied deviant behavior and criminology in college. But the part I snagged for my book was the emergence of fingerprinting.
There was a man in the 1890′s that pushed fingerprinting as a way to identify people and published his studies – and it was him whom I used as a guideline for Colin's research. In 1892 a woman in Buenos Aires was convicted of murdering her children, based on a bloodied fingerprint. But it wasn't until 1902 that a fingerprint was used in a court to convict a murderer in Britain.
I always try to find a picture that captures how I view the character. It's not really the actress or actor, per se, it's really the actual image and how they look in that specific picture. So here is my Amelia:
And then my Colin. I guess I borrowed his name as well as his face.
The bust of Nefertiti that I used was legitimate, however I brought it out a little earlier than it was actually found. It was actually found in 1912 in Berlin, but I figured it could have surfaced earlier than that, so I took some literary license.
Here's a picture of the actual bust:
And no matter how many of you ask, I'm not giving you any details about the Jack of Hearts – you'll just have to wait and see. The Ladies' Amateur Sleuth Society isn't done with him yet, he'll make more appearances in the upcoming books.
---
Foreign Publications
Additional translation sold in Spain
---
---
Share this page