Desire Me
Legend Hunters Series: Book Two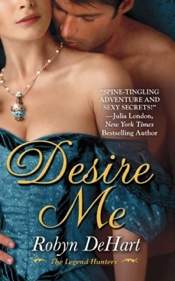 Years ago, Maxwell Barrett found a map to Atlantis and dedicated his life to the search for the mystical lost continent. But when an alluring woman makes a wager for the priceless artifact, he may have discovered an even greater treasure.
A descendant of Atlantis, Sabine Tobias needs the map to decipher an ancient prophecy. What she doesn't need are the sparks flying between her and Max. He's too devilishly charming to be trusted: The fate of her people is at stake as well as her heart. Yet a ruthless killer also covets the map. Now Max and Sabine must race to decode the prophecy's riddle before this criminal fulfills his deadly mission.
---
Notable Raves
"I did not just read this story, I inhaled it in…"
– Huntress Reviews
"A wildly inventive and original plot, a captivating cast of secondary characters, and an unforgettable hero and heroine (whose sexual chemistry is strong enough to generate actual sparks) add up to a scintillating addition to DeHart's Victorian-set Legend Hunters series."
– Booklist
"FIVE STARS! If the first book, Seduce Me, about Pandora's Box was outstanding to me, then I am at a loss for words to express my enjoyment of this one about Atlantis. I did not just read this story, I inhaled it in one sitting. (Thank heavens for rainy days!) Danger, mystery, romance, suspense, and history all blend together with a healthy dose of the Atlantis legend. The result is a book destined for your Keeper shelf. Robyn DeHart has written a treasure trove of trouble that will have you reading at top speed!"
– Huntress Reviews
"DeHart enlivens the genre with her Legend Hunters series centering on sexy, daring treasure hunters and the alluring women who tame them. With slight fantasy overtones and wild escapades, this is one great ride of a read."
– RT Bookclub
"Great read from start to finish! While Book #1 in this series was exciting this 2nd book is action packed and provides quite the mysterious romp with Max and Sabine. They are wonderful characters and have such depth of emotion that you know the goal here is to find Atlantis but in the end the quest is for love and you want them to succeed at both."
– The Reading Reviewer
---
Five Fun Facts
One of the most fun aspects of writing Desire Me came from creating the scavenger hunt for Sabine and Max. It was a thrill to come up with all manners of danger to put them in.
The underground bath is based on a real Roman bath that was unearthed by archeologists outside of Kent in 2004. My characters just happened to find it first.
Desire Me is the first book I've written that has two villains. And they're both deliciously evil–and one is a woman!
When I came up with the concept for the Legend Hunters series, the lost continent of Atlantis was the very first legend I thought of.
When writing the scenes with Queen Victoria, I swear I was channeling Judi Dench; I kept hearing her voice and imagining her mannerisms. She was the perfect inspiration for my Queen.
---
Awards
RomCon Reader's Crown Nominee, Best Long Historical
The Romance Reviews Nominee, Best Book of 2010
---
Ahh, Temptation…
Excerpt from Chapter Two:
Max picked up his hand and glanced at the cards. A lousy combination that on its own would win nothing. It was why he loved this American game, the bluffing. Even with a mediocre hand of cards, he could win.
His table mates were a motley crew, and he had very little difficulty in deciphering when they held good hands or when they knew they would lose. Two of the older gentlemen had made excuses and left the table when the betting had increased. Now only four remained. A grizzled man with a full shock of white hair and a voice deep and cracked. A young man, perhaps one could even consider him still a boy as not even a hint of whiskers appeared on his chin. And the Earl of Chilton sat across from Max, a fine opponent when he wasn't drinking. Tonight though the man had had one too many sips.
The fourth player was, by far, the most interesting. A woman, dressed in a cream-colored confection with a plunging neckline that left very little to his well-developed imagination. She was the kind of woman one expected to see across a candle-lit ballroom surrounded by suitors, not a smoke-filled gaming hell surrounded by drunken fools. With her lustrous, sable-colored hair and her warm caramel eyes, she was nothing short of stunning. Though her darker complexion led him to believe she wasn't originally from England, she had no accent to give him a hint of her homeland.
---
Under The Covers
With every book I spend some time at the beginning digging around the internet for that one picture that captures my character. They're almost always actors/actresses, but its never that actual person, just the one image that seems to evoke the right essence to me.
Sabine

With Sabine I knew that I needed a woman that was so beautiful, almost too pretty. Her being a descendent of Atlantis was important to the storyline and I wanted her to look different than the rest of the women in England. So I came across this picture of Kate Beckinsale and it was perfect.

Max

Max was a little bit different process. Originally when he was a character in Seduce Me, his name was actually Peter and it was requested that I change that during the revision process. Well, when I renamed him to Maxwell, the feel of his character changed so I had to go and find a new image. It was so late in the game that I had to stay with the features I'd given him, the blond hair and blue eyes, but I just couldn't use the same image.

Cassandra

I know it's probably wrong, but I think my favorite character from the book is actually the villainess. She was so much fun. Every time Cassandra walked on stage her scenes just flowed. She was so deliciously nasty, so conniving and I loved every minute of her. I also knew because of her vanity that she had to be an attractive woman, but I wanted a different feel from her than Sabine. Where Sabine was warm, I wanted Cassandra to be icy.

Spencer Cole

Ah Spencer Cole, the real baddie in the book and a true megalomaniac. But in order to achieve the amount of success he had in life he had to be charming and handsome, but there's that element of ick to him, at least from my perspective because I knew what he was capable of. He's responsible for a pretty high body count in this book and I wanted and needed an image that reflected that innate creepiness, but perhaps only to those who was looking for it.

Sabine's Aunts
I'd be remiss to not finish out the cast and share Sabine's aunts.
Lydia, Agnes, and Calliope
---
Foreign Publications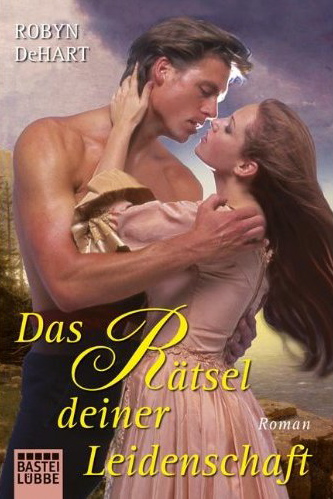 Germany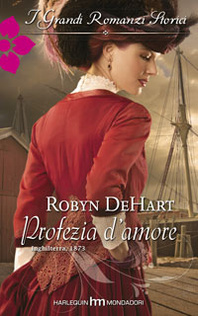 Italy
Additional translation coming soon to Turkey
---
Reviews … From The Blog Tour
"Oh lala…this book is so good! Max and Sabine are intoxicating. Great summer read!"
– Maria's space
"It's like Romancing the Stone meets Indiana Jones, except much better."
– ThisBookForFree
"Robyn DeHart writes delicious heroes, sharp-witted heroines and adventurous plots that rival with any Indiana Jones movie. And in the background there's the development of a heartfelt and endearing love story that's nicely balanced out against the fast-paced adventurous action. So if you like to read out-of-the-box historical romances, spiced with adventures surrounding mythical legends, DESIRE ME should definitely end up on your to-buy or to-read list because it will undoubtedly entertain you and leave you wanting to read the next adventure as soon as possible."
– Fiction Vixen Book Reviews
"… what an extraordinary book… Desire Me is an intriguing mystery filled with an enticing romance and enough adventure and cat and mouse games to keep the reader not only entertained, but fully engaged and unable to set the book down."
– Rundpinne
"LOVED IT! This is a wonderful romance…a unique blend of fantasy, action-adventure and historical romance."
– BookHounds
"Oooooh this was a good book! The storyline was entertaining and riveting. I dove in and didn't come out til I was done with this one. The story was fun and the romance was hot…Definitely grab this one!"
– Marta's Meanderings
"DESIRE ME is perfect for any reader looking for a hint of magic combined with a beautiful romance and spine tingling suspense. My only suggestion would be to make sure that you're sitting in a comfortable spot because, as I learned, you'll most likely end up sitting on the edge of your seat throughout the book and that can have dire consequences for your tailbone."
– A Journey of Books
"This is so much more than a romance! Mystery, romance, suspense, danger, passion and history all fused together in a story you just cannot put down! This was my introduction to Robyn DeHart and I am captivated with her work. *Warning – if you want to read this clear your calendar for the day – you won't stop until it's finished!"
– CandidCleverCost-Effective
"This was a great book. It had everything: suspense, romance, adventure, just to name a few. The writing was really good. This was another one I couldn't put down. The twists and turns are so unpredictable, I was really shocked quite a few times. I was so enthralled…"
– Just Jennifer Reading
"This was my second Dehart book and I was not disappointed. Filled with adventure, witty dialog and so much drama that will keep any reader turning the pages just to find out what is going to happen next. Let's not forget the steamy romance between the two lead characters…Such humor and a wonderfully refreshing plot I am desperate for the third book."
– BookJunkie
"I have read and LOVED Desire Me"
– RexRobotReviews
"A must read and a keeper."
– My Book Addiction
"Robyn DeHart gives us a fun book that cleverly combines romance with myth and adventure…witty, intelligent and fun to read…for lovers of romance and adventure"
– BookSoulMates
"Desire Me is a very interesting book…I really loved the story and the fantasy behind it. It's a great mix and a great book in my humble opinion."
– Savvy Spender
"I loved this book. I cannot say it enough, I absolutely love it! Desire Me has it own edge that makes it feel very unique. For the first time I was enthralled by the characters, and the plot, Robyn DeHart combines all the elements of suspense, action, romance, oh and you can't leave out the treasure hunt that reminds me a bit of Indiana Jones…an amazing read that you will not want to put down."
– Renee's Reads
"This book is written well and flows wonderfully…I would recommend this book to anyone looking for a great suspenseful romantic thriller especially if you want one that will keep you reading through the night."
– DK's Everything Romance Books
"… just the right amount of passion and suspense. Once you start this book or the first book in The Legend Hunters series, you do NOT want to put it down."
– Readaholic
"Take a secret race with guardians protecting a special elixir, add in an Indian Jones hero and Lara Croft puzzle clues, then top with reluctant attraction. The result is a good recipe for this fun romance!"
– Martha's Bookshelf
---
Interviews
BlogTalkRadio interviews Robyn DeHart with insider info on Desire Me!
---
---
Share this page