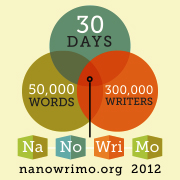 For those of you who might not know November has long since been home to NaNoWriMo – or National Novel Writing Month. I love the tagline for this: 30 days and nights of literary abandon. The basic principle is that you dedicate an entire month to writing a 50,000 word novel. This would more than likely be a rough draft, one that would require much revision, but think about it, in just 30 days, you could have a book done. It's kind of an overwhelming thought, but it's really a lot of fun.
By the time I'd tried NaNo the first time I was already a published author which several books under my belt. I knew my writing process and I knew I could get a book finished. I joined partly for the challenge – most of my rough drafts come in below 50k so I wanted to push my word count, also I was really keen on joining in on the camaraderie. Several other writers in my local RWA chapter participated and we all cheered each other on. It was so fun watching everyone's daily word count rise.
Many times my deadlines are such that I can't participate, but this year I can. In fact, I need to in order to meet a deadline. It's crucial that I get the rough draft done in November so that I can have the revised manuscript turned into my editor by May. And I have to write another book in between that. So like I said, it's a must that this book get done in November.
In a perfect world I'd spend the month of October plotting that book so come Nov 1st I could hit the ground running. But I'm currently on deadline so I'm trying to finish up the current book all the while hoping my subconscious is working on my NaNo book. Not so sure that's working. More than likely I'll have to spend some time getting the first few scenes sketched out so I can jump right in and then plot as I go.
But, you say, 50,000 words in a month is a lot, too much, really. Well, possibly, but you'll only know if you try. And let's break that down into more manageable bites, that averages out to about 1,666 words a day, which is really only about 8 pages. Break that down into 2 page increments, so you write 2 pages 4 times a day, you can do that!
So how do you know if NaNoWriMo is right for you? Here's my list, see if any of these describe you and if so, give NaNo a try!
1. you've never finished a book, but really want to. (great way to dedicate yourself to finishing b/c you make a public commitment and people can cheer you on)
2. you normally write romantic suspense, but have a great idea for a Regency historical that won't leave you alone. (great way to try out a new genre b/c it's only 1 month of your life!)
3. you write really, really slowly because you get bogged down revising the first half of your book 100 times. (you are struggling with turning off that internal editor OR you're allowing "perfectionism" to be your excuse)
4. you want to "hang out" with cool writers like me (seriously you'll get great pep talks from successful writers and see how others are progressing, it's very motivating & if you have a competitive side, even better!)
5. you have a deadline you're worried about meeting (let's face it, by the time December rolls around, it becomes very difficult to write b/c we're doing holiday stuff, so use November to get that book done!)
So how about it? Are y'all in? Want to join me for some intense writing in November? Think about December first and being able to say you just finished a 50k word book!