It's coming! The second book in my Forbidden Love series, A Little Bit Sinful releases Monday, April 1st! I'm so thrilled to share this book with y'all. I really fell in love with Clarissa and Justin and I hope you will too. An excerpt will be coming in the next day or two so watch for that, but in the meantime, here's the cover and back cover blurb.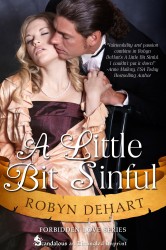 She'd made all the wrong choices, but ended up in the most perfect situation. 
Justin Rodale is the wealthy bastard son of the Duke of Chanceworth. He owns the most lucrative and luxurious gaming establishment and caters to London's elite. Educated with the rest of the aristocrats, he knows all the rules by which Society lives, but he is beholden to no one.
Clarissa Kincaid has been raised to be the perfect English lady. She knows precisely the sort of match she should make and she's fairly certain she's found that with a respectable gentleman. But the man won't commit and she finds herself seeking assistance in the form of seduction lessons from Justin.
This is a challenge the charming Justin can not resist. She may think that he knows nothing about her needs, but he's determined to show her that he knows plenty about her secret desires. He has no intention of publicly ruining the girl, but he's determined to privately tempt her into some slightly sinful behavior.