Okay y'all I'm so excited to share this with y'all. My good friend Tracy Wolff (who also writes as Tessa Adams and Tracy Deebs) writes contemporary romances, YA's and Urban Fantasies. She's amazingly prolific and a fantastic person and she said that I could give away a copy of her brand new book, Soulbound, which comes out today! I don't know about y'all but I love witch books so I can't wait to dive into the new series because it sounds fantastic. So without further ado, I'll give y'all the details…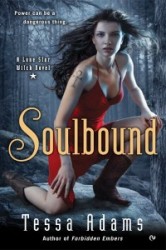 As the seventh daughter of a seventh daughter—and a member of Ipswitch's Royal family—Xandra Morgan should be a witch of incredible power. But things don't always turn out like you expect…
While she hasn't lived up to her family's expectations, Xandra has come to terms with her latent magic and made a life for herself in Austin, Texas, running a coffee shop where she makes potions of a non-magical nature. While things aren't perfect, Xandra is happy—until she runs into powerful warlock Declan Chumomisto.
Xandra hasn't seen Declan in years, and though she's still overwhelmed by his power, she doesn't trust him. And when her own powers awaken one night and lead her to the body of a woman in the woods bearing the symbol of Isis—the same one that has marked Xandra since the day she met Declan—she's filled with a terrible suspicion, soon confirmed: the woman is connected to him.
Xandra doesn't want to believe that Declan is capable of murder, but as the body count mounts, and Xandra's own powers spiral out of control, she's not sure she can trust her own instincts…
Sounds great, doesn't it? If you can't wait for the contest, you can buy it
here
now. And you can find out more about Tracy/Tessa and all her awesome books
here
. Also Tracy is actually hosting her own contest too so you have more than once chance to win, check it out
here
. 
So what do you have to do to win here? Simply leave me a comment telling me what book you're most looking forward to in 2013 and I'll enter you to win. I'll pick a winner (randomly, of course) on Saturday.