Courting Claudia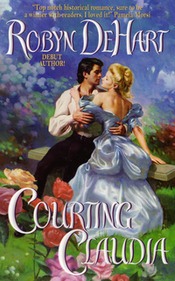 A dutiful woman, a desirable man…
An artist with a keen eye for the beauty surrounding her – yet none for her own – duty-bound Claudia is resigned to marrying the man of her domineering father's choosing. First, though, she must resign the job she has held in secret as society illustrator "C.J. Prattley." But dashing newspaper owner Derrick Middleton is instantly captivated by Claudia's talent, wit, and sweet nature – and the passionate inner fire she unknowingly possesses. He has other plans for this extraordinary woman.
Until Claudia first entered his London office, Derrick cared for only his paper and the wild bachelor life he has long enjoyed. Now saving Claudia from a dismal marriage – and winning her for himself – becomes his main concern. But courting a woman like Claudia will not be an easy undertaking for a handsome cynic who has always believed true love is not for him – especially after they succumb to an indiscretion that could lead two hearts to ruin … of a most delicious variety.
---
Notable Raves
"COURTING CLAUDIA is a fabulous Victorian romance… Robyn DeHart writes a solid historical tale…"
– Harriet Klausner
"Ms. DeHart's debut [COURTING CLAUDIA] is a charming love story filled with appealing characters. Claudia and Derrick heat up the pages…"
– Fresh Fiction
"Though it sparkles with wit, there is just enough poignancy in this book to bring a tear or two to your eye and a smile to your heart. Don't miss this debut."
– Romantic Times, Four Stars, K.I.S.S. Hero
"Debut authors rarely begin their careers with such a bang! COURTING CLAUDIA is a delight from start to finish with a terrific premise, two wonderful lead characters, and sparkling, realistic dialogue … A refreshing, entertaining tale of emerging love … Beautifully written and well researched, don't miss this sizzling debut novel."
– Romance Reviews Today
"COURTING CLAUDIA by debut author Robyn DeHart is a smashing good time! Charming characters, captivating tale, and a touching love story that is guaranteed to tug at your heart. The work from this talented author is definitely going to enrich the historical romance genre!"
– Romance Junkies
---
Awards
RT Reviewer's Choice Award Nominee for Best First Historical
2005 Romantic Times BookClub Reviewers' Choice Award Nominee for Best First
Historical.
2006 double finalist in Desert Rose Golden Quill contest for Best First book
and Best Historical.
---
Ahh, Temptation…
"So you are resigning because you recently realized it is improper for you to have a paid position?"
She shook her head, the flowers on her hat bobbed. "No, I have to get married and that is why I must resign."
"I don't follow."
"I cannot be a wife and have a…a job, Mr. Middleton. It would not be appropriate."
"I see. It appears to me that no part of your position with this paper is appropriate. I find life is vastly more rewarding if you live your life as you like it rather than by what Society deems appropriate."
Her eyes widened and her mouth formed a tiny "o". "You must live a daring life, Mr. Middleton," she said, her voice breathy. "A very exciting existence. If only I were so fortunate."
He could certainly show her a more exciting life. And he'd start with peeling off that silly hat so he could see what her hair looked like. Then he'd probably want to kiss that silly little mouth of hers to see if she would make that ooh noise again. The muscles across his abdomen tightened.
This was ridiculous. "So when is it that you are getting married?" he asked to get the conversation back on track.
"I'm not sure."
"You haven't set a wedding date?"
"Oh, I'm not betrothed as of yet."
---
Under The Covers
I wanted to write a book about a woman who really struggled with her body image. I had read other books with plump heroines, but I really wanted to tackle the issue and use it directly in the growth of my heroine and her relationship with the hero. 
Claudia Prattley was born out of this desire. In taking on these issues, I set myself up to write the sexiest book I'd written to date. It wasn't an intentional decision, but looking at the finished product it makes sense. I needed a hero who would really challenge Claudia in her views about her body and Derrick does so in such sexy ways. It was really a fun book to write.
Heroine: Claudia Prattley
Inspiration – chubby Reese Witherspoon. This was the picture I found of Reese that felt close to how I imagined Claudia.
Hero: Derrick Middleton
Inspiration – Johnny Depp. Oh yeah! Here's my Derrick. I imagined him a little less dark than this particular picture, more charming, but I wanted to portray Johnny's deeply sensual persona, especially in those eyes of his.
My fictional paper, the London Illustrated Times, is based on the real Illustrated London News which launched in 1842 and was actually the first illustrated magazine in London. It eventually became a weekly paper and famous artists such as Caldecott were reported to have worked for the paper. You might recognize the name Caldecott from the Caldecott Medal, the award given annually to the best illustrator of a children's book.
The embezzlement crime used was also authentic, although I did change the time period and some other details. But there was a gentleman who was found guilty of embezzling funds from the Patent office under Queen Victoria.
And for all those readers who keep asking … yes, I do have a story for Poppy. It is not contracted, however, and I do have a 4-book series that I'm working on at the moment. Suffice it to say, I'd love to give Poppy her own happy ending, maybe someday. I'll let you know as soon as I know.
---
Foreign Publications
---
Share this page