Deliciously Wicked
Ladies' Amateur Sleuth Society series: Book Two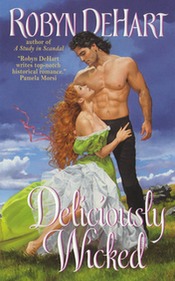 When wildly independent Meg Piddington finds herself locked in her father's chocolate factory after hours with a most disarmingly attractive gentleman, she doesn't realize that she is his alibi-proof that Gareth Mandeville did not commit a dastardly crime. But admitting as much would destroy her reputation, which gallant Gareth refuses to do. Besides, he believes even prison would be preferable to marriage, which is what their revelation would certainly demand!
At last, here's the perfect opportunity for Meg to doff her sleuthing hat to get to the root of the secretive stranger's troubles! Besides, the man sends oh-so-pleasant shivers coursing through her body. And though heaven may well await in Gareth's embrace, danger may dwell there also … if the determined lady embarks on a grand mission to win his love.
---
Notable Raves
"DeHart handles her romance well … enjoy DeHart's breezy style."
– Publisher's Weekly
"Robyn DeHart's late Victorian romance, is a delectably fun literary confection that is spiced with plenty of witty dialogue and a generous soupcon of sizzling sex."
– Chicago Tribune
"Robyn DeHart is one of today's premiere romance authors. All of her stories are wonderfully written with great attention to detail and a plot that keeps the reader riveted to the pages."
– A Romance Review
"DELICIOUSLY WICKED, the vivacious follow-up to A STUDY IN SCANDAL can be read alone, but as always, it's best to get in on a series from the beginning. Stay tuned for Ms. DeHart's next tale, when yet another sleuth falls prey to the man of her dreams! I can only hope that we won't have to wait too long; I am not a very patient person … "
– Romance Reviews Today
"DELICIOUSLY WICKED is a light Victorian romp infused with mystery and delightful characters. Ms. DeHart flushes out the personalities of the other sleuths, sparking interest in their further adventures."
– Fresh Fiction
"The sequel to the fabulous A STUDY IN SCANDAL is a wonderful Victorian romantic mystery starring two interesting protagonists ably supported by the Ladies Amateur Sleuth Society, which delightfully means future tales of love and mystery. DELICIOUSLY WICKED is a fun historical from the moment the lead duo is locked inside together and never slows down until the final blithely sweet exchange. Fans of confectionary cozies will enjoy this lighthearted romp."
– Harriet Klausner
" … delightful, fun, fast-paced … This one is as delicious as any of the chocolate confections created in the family's factory."
– 4 stars, Romantic Times
"This is an excellent historical romance. Gareth and Meg have so much chemistry…"
– Coffee Time Romance
"It's hard to find fault with Robyn DeHart's newest novel of love and intrigue. It warms and captures the attention. Deliciously Wicked is thoroughly engaging. Robyn DeHart writes a lush yet intriguing story. She never fails to tell the kind of tales I truly enjoy to read with the kind of characters I love to meet."
– OnceUponARomance.net
---
Ahh, Temptation…
She frowned. Of all the audacious things to do. She marched over to him and prepared to tell him precisely how she felt. If she had been unkind it was most definitely his fault. He seemed to spur her to unkindness.
"There. This is it," he declared.
She swallowed her words. "What is it?" she asked.
"A window. Up there." He pointed to a spot above one pile of boxes.
She peered up and did, in fact, spot the window. But it was terribly small. "It's tiny."
He nodded. "True."
"Well, what good will it do us?"
He leveled his gaze on her. "You are going to have to climb through that window and walk around to the door and let me out."
She eyed the window a second time. He was delusional. "How do you suppose I do that? The window is far too narrow."
"No, it is big enough for you to fit through. With a few adjustments." He looked from her to the window. "Take off your dress," he said simply.
---
Under The Covers
I'd been wanting to write a book set in chocolate factory. The late Victorian era was when chocolate makers like Cadbury were really getting innovative and making chocolate into more than simply a warm drink. 
It seemed the perfect setting for Meg's adventure. When you're dealing with something as sensual as chocolate, it awakens other senses and so it was no surprise when Deliciously Wicked turned out as sexy as it is. 
I think it's my sexiest book yet.
When you're writing a series, especially if the characters are present in the other books and walk and talk and whatnot, it can present some problems. Once I had written A Study in Scandal, I was stuck, so to speak, with the heroines I had created. Their personalities were already on the page. Meg was the impulsive one. She was different for me than any of my other heroines and I admit I struggled a great deal with her, but in the end she became a wonderful heroine all her own and I adore her. Gareth, on the other hand, was sexy as hell from the very beginning. I knew it might be a stretch for readers to fall in love with a factory worker, but how can you not love a man who's hands have been in chocolate all day?
Heroine: Meg Piddington
Inspiration – this one picture of Nicole Kidman, not any other shots of her, just this one. This picture fit Meg perfectly.
Hero: Gareth Mandeville
Inspiration – Joseph Fienes (oh yeah!). The intensity in his gaze still makes me weak in the knees.
I did use the actual Cadbury factory as my model. It was interesting in my research to learn that all of the confectionaries were the factories that were most forward in their thinking about employers rights. They were the first to establish holidays and shorter hours and Cadbury went so far as to build their factory outside of the city and have housing available for their employees. Not only that, but they made sure to be on the rail system so that those living in the cities could get to and from work. They had recreational grounds and the working environment was considerably better than the average factory.
I found this image of men working in an assembly line.
I did have a really difficult time researching the actual equipment they would have used. I even contacted Cadbury to see if they had anything in their archives, but they had nothing. It would have been great to visit a working chocolate factory (all in the name of research!) but I was unable to. The best I could find was a few pictures in a history of chocolate book I have and several mentions of when Hershey bought his first
machine at the World's Fair in Chicago. So I admit I used some creative license when it came to the machinery in the book.
The actual chocolate boxes were difficult to research as well. I found a few pictures.
But these were the more elaborate boxes. Luckily the book I found on the history of the Cadbury firm gave a fairly detailed description of the types of boxes they made. But as you can tell, they used lush fabrics, tiny mirrors and small paintings of
landscapes.
While this book certainly produced its challenges with the characters and research, I'm very proud of the finished product and I hope you will love watching Meg and Gareth find their happily ever after. OH! I didn't just give away the ending, did I?
---
Foreign Publications
Brazil (Portuguese)
Spain
---
---
Share this page