Dueling With the Duke
Dueling With the Duke
He's known as The Saint, but she's tempting him to sin…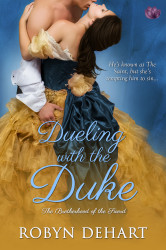 London, 1838
Gabriel Campbell, Duke of Lynford never intended to carry that title, but when his reckless brother gets himself killed in a duel over a woman, Gabe has no choice. Now he's sworn off love, blaming the woman that broke his brother's heart and led to his untimely death. 
Lilith Crisp, Lady Thornton, knew from a young age that pretty girls grow up and get married off to the highest bidder. Being paraded around London as her husband's trophy has taught her some unique skills and now she can manipulate any man for his darkest secrets. Gabriel's position in the Brotherhood of the Sword leads him directly to Lilith's door. 
For Gabe, Lilith is the one woman he's always wanted, and Lilith is now forced to deal with a man who seems immune to her charms. But a secret about Lilith's niece brings them together to face a danger that threatens not only their lives, but the fate of England's Crown. Resisting Lilith is getting more and more difficult and Gave finally recognizes that he can't keep blaming her for his brother's fate. Finding love means forgiving the past and that might be the only thing they simply can't do…
---
Notable Raves
"
This was a treat of a discovery and although I went in with no particular expectations having not read this author or the previous book in the
Brotherhood of the Sword
 series, it quickly became evident that 
Dueling With the Duke
 was going to be an enjoyable fast-paced sexy romance with mystery, intrigue and action." -Nicola, 4.5 stars, Goodreads
"I loved every page." -Petula, 5 stars, Goodreads
"
I'll just throw this out right here…I LOVE that her books…are set in the Victorian era." -Susan, 4 stars, Goodreads
"5 stars." -Sissy, Sissy Mae Reads Blog
---
Ahh, Temptation…
From the Prologue of Dueling With the Duke
London, 1833
Lilith Jansen stared up at the inky night sky, imagining that the stars were winking just at her. She'd been able to bear only a half of an hour inside the packed ballroom before having to sneak outside for some solace. In truth, she could stay out here all evening, but she knew her father would never allow that. Soon he'd be looking for her, and he'd sternly force her back into the ballroom where he'd try to peddle her off to the highest bidder.
Since coming out last Season, she'd already received a handful of proposals, but her father had deemed not one of them worthy. He was looking for one thing and one thing only—a fat purse. After her mother died, her father had done little but gamble away their funds and then curse her for not bringing in heftier sums from her suitors. She'd tried to tell him, it was she who was supposed to bring money to the husband in the form of a dowry, but he'd gotten so angry, he'd nearly struck her. She never brought up the subject again.
Until the suitor with the biggest purse came along, she supposed she would bide her time and wait for the inevitable. For much of her first Season, she'd wasted time fantasizing about a wealthy, handsome, and kind man who would sweep in and fall desperately in love with her. That had yet to happen. And the more she was around other couples in London, the more she realized that it wasn't only her parents who hadn't been a love match. That seemed as rare as a falling star.
"My lady, are you hiding from someone?"
---
Under The Covers
Pinterest board for Dueling With the Duke where you can see inspiration pics of the characters, research and setting elements and the charm I got my book charm bracelet. 
---
Share this page