For Her Spy Only
For Her Spy Only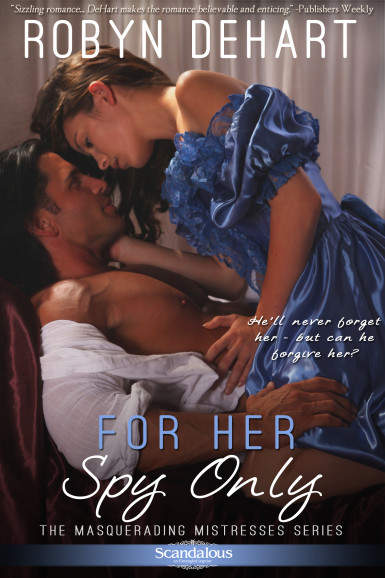 England, 1814
When Winifred is rescued from her snow-stranded carriage by the notorious and reclusive Alistair, Marquess of Coventry, she is instantly drawn to him. Jilted by her betrothed and socially ruined by untrue rumors, Winifred is tired of paying for crimes she didn't commit and decides to play the seductress London society claims she is. Thinking a night of passion shouldn't leave any lasting effects, she instead finds her heart marked forever.
Six years later, Alistair is working for the Regent as a spy. A search for Napoleon's English supporters leads him to the beguiling Winifred, recently widowed with a young son. He hasn't forgotten how the unconventional beauty warmed his bed, and the heat between them rekindles immediately. The spymaster is determined to uncover all of plucky Winifred's secrets. Especially the one regarding her son…
---
Notable Raves
coming soon
---
Ahh, Temptation…
From the Prologue of For Her Spy Only
24th of December 1808, near the coastline of Sussex
Miss Winifred Wilmington pulled her green velvet cloak tighter around her. She exhaled and the puff of air was visible, so cold was it inside the carriage.
"We are going to die in here," her maid, Polly, wailed.
Winifred rolled her eyes heavenward. "I seriously doubt that," she said. "It is rather cold, but I suspect someone will be along soon enough and rescue us."
"I could remind you that it was my suggestion that we leave earlier in the day. Or yesterday," Polly grumbled. "It is the eve of Christmas, who else is traveling?"
The thought had crossed Winifred's mind as well, but she certainly wouldn't put voice to it. "Holmes went to search for help. Certainly he will find someone to assist us."
There was no need to panic, as that would solve nothing. Therein lie the significant difference between herself and her longtime maid. Winifred was nothing if not practical. It was a skill she had learned out of necessity. One did not get jilted at the altar without adjusting one's expectations of life and other people. In any case, she was somewhat concerned about being stranded in this frigid carriage all night, though she was hopeful that someone would come along to save them.
Polly sat up. "Do you hear that?"
Polly was so apt at creating drama, no doubt the woman thought she heard wolves outside. "What?" Winifred asked.
"A carriage is coming," Polly said.
Winifred strained her ears, and certainly enough it did sound as if wheels were drawing nearer. Hope bloomed in her chest. The wheels rumbled and the horse hooves clattered louder and louder until they were upon them before they rolled to a stop.
"As long as it's not a highwayman, I suppose we can consider ourselves rescued," Winifred said.
---
Under The Covers
coming soon…
---
Share this page