Her Gentleman Thief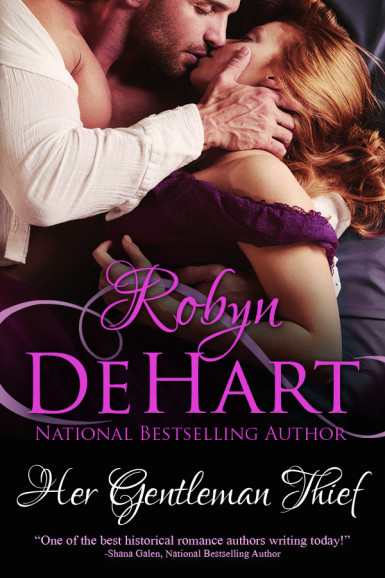 Annalise Petty is on her way to her wedding when a handsome highwayman stops her coach. Determined to save her younger sister's reputation Annalise begs the thief to take her with him. It doesn't hurt that the handsome stranger might also be saving her from a marriage without love or passion.
Griffin Hartwell, Viscount Benning never imagined that playing the highwayman would bring him face-to-face with his own would-be bride. Once alone Griffin takes the opportunity to show Annalise just how passionate he can be, but will his charade ruin their chance at a forever love?
Her Gentleman Thief – special digital Regency short story for only $0.99!
---
Ahh, Temptation…
Annalise Petty sat primly on the carriage seat, hands folded neatly in her lap. Outside she probably appeared to be the perfect genteel lady, full of grace and peace. Inside, a battle raged. Her heart beat wildly and her stomach felt more like a gnarled mess of knots. In two days she would become wife to the most boring, proper man in all of London. A man she had foolishly fancied herself in love with when he'd first begun to court her, then he'd revealed his true self. Now she knew he was rather indifferent to her and only interested in the business deal the union brokered.
She chewed at her bottom lip. The carriage rumbled along through the dark night. Her parents had already made the journey to Kent, but Annalise and her younger sister, Penny, had stayed behind for one last fitting of the wedding gown. The layers of cream-colored gossamer silk was the finest garment Annalise had ever owned. Her betrothed had purchased her an entire wardrobe of proper clothing that would be delivered to his estate sometime next week. The wedding gown though sat neatly into a trunk on the back of the rig.
Hildy, their maid, sat quietly across from them pretending not to nap even though her level breathing and spontaneous snores betrayed her. Penny sat quietly, her expression blank. Sweet and beautiful Penny. Annalise sighed, this should have been her trip, her wedding gown in the back.
---
Under the Covers
When I was approached to write a short story for The Mammoth Book of Regency Romance, I immediately accepted. Since I normally write in the late Victorian era, I was excited by the challenge of writing in a different time period. For years I'd had a scene playing in my head that hadn't yet fit into a book: of a young woman travelling in her carriage and it is pulled over by a highwayman and she, in turn, asks him to take her along. That scenario is where this novella came about.
Here are the pictures I used as inspiration for Griffin and Annalise: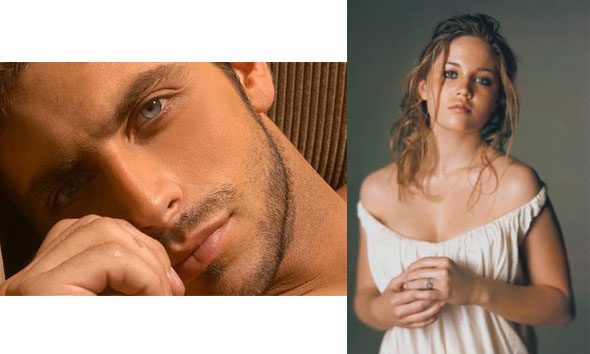 ---
---
Share this page