Misadventures in Seduction
Misadventures in Seduction
England, 1814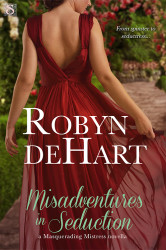 With five siblings to care for, Prudence Hixsby's duty comes first, even if it means becoming a spinster. When the eldest – and most cherished – of her younger brothers decides to join the war, however, Prudence is determined to keep him safe. So she strikes a bargain with an old acquaintance: her body in exchange for her brother's safety.
In the dead of the night, she slips into the bed of a man whose touch is both fierce and passionate… little knowing she's just seduced the wrong man.
Harrison Carlisle, the Duke of Sutcliffe, never imagined that the lovely Prudence would honour his bed, or just how bewitching those lush curves could be. Yet he keeps a gentleman's silence. After all, a spy for the Crown can ill afford to marry. But when Prudence's brother is killed, they find themselves uniting to track down the traitorous murderer. And while death lurks within the shadowy world of espionage, there is also passion… and the unbidden thrill of a seduction!
---
Notable Raves
coming soon
---
Ahh, Temptation…
From the Prologue of Misadventures in Seduction
Country house party at the edge of Derbyshire, 1810
Prudence Hixsby, eldest child to the late Mr. and Mrs. Hixsby of Staffordshire, stole a glance at the tall man across the parlor. Harrison Carlisle, Duke of Sutcliffe. He leaned against the mantel as if he owned the room even though he was as much a guest as she. His arrogance was palpable.
His lean figure cut a dashing view with his bright white cravat, expertly tied, and his black tailcoat. She looked down on her own dress—meager by his standards, certainly, but it was one of her finest gowns, a soft blue embroidered muslin with a satin ribbon tied just under her breasts. It was a flattering color, she'd been told. Still, in comparison to the duke's finery, she felt lacking.
His shrewd blue eyes scanned the parlor, yet he never seemed to see her. Blast it all, but he was handsome.
"You're staring," her brother's voice said from behind.
She started at his intrusion. "Johnston, you shouldn't sneak up on a person in such a way." She tapped his elbow. "And I was not staring." Had she been staring? Nearly twenty people were in attendance. She recognized most of them. Lord and Lady Flintlock played cards at a table in the back of the parlor, with two older women whom she recognized, but could not recall their names. Several others chatted around the room as she and her brother were doing. None of them seemed to notice her, so had she been gawking, perhaps it had gone unseen by all but her brother.
"Deny if you must, dear sister." Johnston gave her one of his charming smiles. "But we both know the truth."
She ignored his goading. It was alarming, not to mention troubling, that she'd been staring at the duke at all, let alone that she'd been caught. What was it about the man that she found so interesting? It was not his charm; he'd never been particularly friendly to her. 
» Read More…
---
Under The Covers
Pinterest board for Misadventures in Seduction
---
Share this page