No Ordinary Mistress
No Ordinary Mistress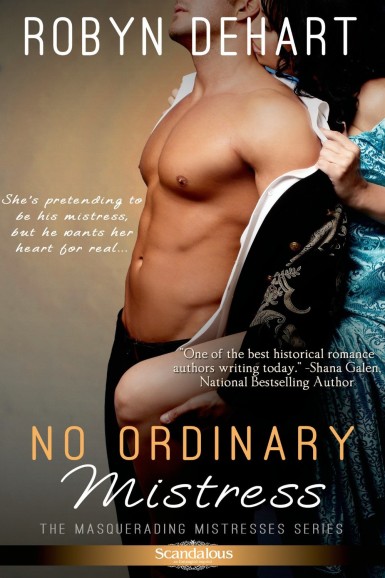 London, 1814
Remington Hawthorne, Earl of Latham, has spent his life protecting the Crown. When he's assigned to play the part of lover to Emma Masterson, one of the few female spies in England and the one woman he can't forget, he'll have to risk his heart as well as his life.
It isn't easy being an independent woman, much less a spy. Perpetually tasked with proving she is as valuable as any man in her profession, the last thing Emma needs is to be reunited with the one man who makes her want to forget her duties and get lost in passion.
Pretending to be his mistress isn't difficult – remembering that it is all a charade is a challenge. With every glance, every touch, every kiss, she is drawn deeper under his spell and pulled further from her goals. She refused him once, but it will take every ounce of strength to not give in to the passion that still burns strong…
---
Notable Raves
"engaging characters and an intriguing storyline…"  ~My Book Addiction Reviews
"Romantic… I plan to reread it in the future." ~Night Owl Romance
"This was a fantastic novella. Robyn DeHart masterfully balanced the romance, adventure and murder mystery." ~Ramblings From This Chick
"A sweet, lovely novella, No Ordinary Mistress was a great read." ~Imagine A World
---
Ahh, Temptation…
From Chapter One of No Ordinary Mistress
August, 1814, London
Emma couldn't breathe.
If she stayed in this closet for much longer, she was certain to expire, or at the very least, faint. What little air there was clogged her nostrils and coated her tongue. She was going to suggest the housekeeper air out the closet and beat the dust from every item, assuming she survived this encounter. Her charges were long in bed, and Lady Comfry had taken laudanum for a headache and probably wouldn't awaken until tomorrow afternoon.
Emma took advantage of the sleeping household to come into Lord Comfry's study and poke around to see if she could find anything of use. When she heard men's voices coming, she sneaked into the storage closet in an attempt to hide herself. Now it seemed she'd play witness to a secret meeting with Comfry and some other man.
Despite the dust tickling her nose, she could not step outside of the small room else she'd reveal herself to the very men she watched. Through the tiny crack in the door, she could clearly see her employer, Lord Comfry, but could not see the man to whom he spoke. And she did not recognize his voice, but their hushed conversation concealed their tones. Three months before, she had been assigned to Lord Comfry's townhome, a governess to his two children. So she taught the children, all the while absorbing every word spoken in the house, especially those of Lord Comfry himself. He was suspected of treason, specifically of feeding information to the French.
For the last three years, she had worked for the Seven. That didn't include the eight months of training she'd endured at the prestigious and extremely covert Seven Academy. Ever since that nightmare in Paris, she'd requested to work without a partner. She never again wanted to be in the position of having a partner tell her how to do her job. Or of being tempted by such intimacy. So she resigned herself to a string of governess assignments, gathering intelligence and keeping to herself.
---
Under The Covers
coming soon…
---
Share this page