The Scoundrel and the Lady
The Scoundrel and the Lady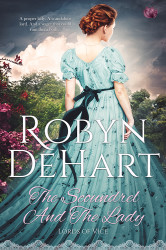 Lords of Vice: Book one
A proper lady. A scandalous lord. A wager that could ruin them both… 
Iris Bennington is furious when she discovers her younger brother is following the instructions found in the acclaimed advice columns on How to be a Gentleman. The so- called "advice" is more likely to turn her brother into a scoundrel than a true gentleman. Iris decides to locate the author of the columns and confront him.
Merritt Steel, the Earl of Ashby, cannot help but be amused by the slip of a woman who comes calling. Unwilling to let such a delightful potential conquest go, he proposes a wager: bring him anyone off the street and he can pass them off as a gentleman. It's a bargain she readily accepts—but with a twist.
Their bargain proves to be a greater challenge than either anticipated. Merritt finds it near impossible to keep his hands off Iris, and she begins to see the undeniable appeal of ungentlemanly behavior… 
---
Notable Raves
coming soon…
---
Ahh, Temptation…
London, 1851
Lady Iris Bennington adjusted the strap of her parasol so that it hung loosely from her right wrist. Today was important. She had been waiting for this opportunity since joining the Ladies of Virtue three years before: the day when she could become instructor to a new member. The new recruit walked next to Iris, matching her every step. Millicent Harris had an impeccable reputation and an eye for detail; so it was that she had been invited into the ranks of the Ladies of Virtue.
To those outside of their elite group, they seemed nothing more than a group of ladies providing funds to the needy. In truth, they did far more. Lady Somersby saw to it that all her ladies were well trained in the art of personal protection, as she herself had been years before while she'd worked undercover, posing as Queen Victoria. Their training proved useful in putting a stop to pesky crime inundating their London streets. Iris had become quite accomplished at stopping pickpockets. And they did all this while maintaining their own personal reputations.
"We are to simply walk normally as if we were doing nothing more than shopping with the rest of the people?" Millie asked.
"Precisely," Iris said. "An opportunity does not present itself on every outing, thank goodness. Though, the number of times I intercept a would-be criminal on any sort of errand might surprise you. Somedays it seems we are inundated with them." 
---
Under The Covers
For a peek at my vision of the characters and settings from the book, visit the Pinterest board.
---
Share this page