Seduce Me
Legend Hunters Series: Book One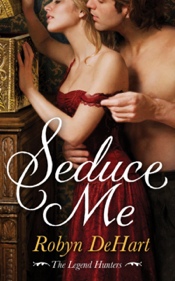 Fielding Grey is a treasure seeker with a taste for danger and experienced women. His latest mission: wrest Pandora's fabled box from a notorious criminal mastermind. Not in the job description: save an innocent damsel in distress.
A bookish miss, Esme Worthington has favored dusty tomes over society balls, and thrilling tales over flirtations. But when two scoundrels break into her home, she is thrust into a real-life adventure. Pursued and suddenly possessing the forbidden box, Esme can't resist peeking inside. Under the spell of Pandora's seductive curse, she's soon offering herself to Fielding – body and soul. With her reluctant rescuer determined to resist her charms, can the two outwit an enemy who will stop at nothing to seize their precious prize?
---
Notable Raves
"Spine-tingling adventure and sexy secrets! Robyn DeHart's vibrant characters sweep the reader into a clever and sensual romp that is not to be missed."
– Julia London, NYT Bestselling Author of Highland Scandal
"SEDUCE ME is a rousing and rollicking romantic adventure! If you like THE MUMMY and PIRATES OF THE CARIBBEAN, you'll love SEDUCE ME. Robyn DeHart proves that falling in love is the greatest adventure of all."
– Teresa Medeiros, NYT Bestselling Author of Some Like it Wild
"Indiana Jones meets Lara Croft in DeHart's pulse-pounding adventure romance, the first in the Legend Hunters series. With strong dialogue and fast pacing, her intricate plot is brought to life by characters that leap off the pages."
– Romantic Times, a 4 1/2 stars TOP PICK!
"Sizzling romance…DeHart makes the romance believable and enticing."
– Publishers Weekly
"kept me turning the pages. Esme and Fielding are perfect…"
– ReviewYourBook.com
"Reviewer Top Pick! Fast paced, action filled historical romance…"
– NightOwlRomance
"5 stars! This is one of the best historical romances I have read this year. I read the entire book in one night. The engaging plot and charming characters blend together for one intoxicating read."
– Huntress' Book Reviews
"Seduce Me is a sexy, thrilling adventure story that is very reminiscent of Indiana Jones… Ms. DeHart's Legend Hunters series a winner! Count me in as one who can't wait for the next adventure!"
– Andrea, RomanceNovelTV
"Indiana Jones"-type of adventure with thrills, legends and romance. This first book in the Legend Hunters trilogy definitely belongs on the keeper shelf."
– FreshFiction.com
"With its wonderfully matched and equally stubborn protagonists, captivating plot, and subtle wit, the first in a new series, based on lost legends, by rising star DeHart is a genuine treasure itself."
– Booklist
---
Five Fun Facts
To date, Esme Worthington, is Robyn DeHart's favorite heroine she's ever written. Esme says whatever she's thinking and she's brave and has a wicked sense of humor.
The first three chapters of Seduce Me practically wrote themselves, they went so quickly and were so much fun. The rest of the book proved more challenging, but was still fun nonetheless.
The concept behind the cursed bracelets in Seduce Me was gently borrowed from The Mummy Returns. Come to find out there are actually real Pandora bracelets that are quite popular.
Robyn DeHart has a degree in Sociology with a focus on deviant behavior. Seduce Me was the first book she wrote where she was able to pull from her education to create a mastermind criminal.
The concept behind the Legend Hunters series and the gentleman's club Solomon's came from a love archaeology and treasure hunting and great adventure romance movies like Indiana Jones and The Mummy.
---
Awards
Seduce Me is a winner again, this time it claimed the RomCom Readers Crown award for Best Short Historical!
RT Reviewer's Choice Award WINNER for Best Historical Romantic Adventure
RomCon Readers' Crown finalist in the Short Historical category
---
Trailer
---
Ahh, Temptation…
From Chapter One of Seduce Me
One Wednesday night on a sleepy side of London, Esme Worthington yawned a most unladylike yawn, then sniffled her nose before looking back at the text on her lap. It was long past a reasonable time for bed yet here she sat. Sometime after midnight she'd abandoned the hard chairs of her study for the more comfortable sofa in the parlor next door. But the plush floral cushions only assisted by lulling her to sleep rather than encouraging her to continue her research. She readjusted herself and blinked several times, trying to focus on the book before her.
She read the last sentence once again trying to absorb the words. Some of these so-called scholars simply had no notion what they were suggesting. Precisely how was an artifact from ancient Greece supposed to have ended up in the jungles of South America? Preposterous. There was no possible way that Pandora's box had ended up on a Spanish explorer's ship.
Another yawn.
Her great black tom lifted his sleepy head from where he slept curled warmly over her thighs. His gold eyes were nothing more than slits, then he yawned. "Horace, I do believe I shall retire for the evening. I don't seem to be getting any work done at all." She scratched him behind his ears and he rewarded her with a rhythmic purr. Placing the heavy book on the table next to her, she stood. "You guard the books and tomorrow morning I shall pour you some warm milk."
Esme doused the lamp, then stepped into the hallway. Horace followed her and she scooped him into her arms. "Want to warm my feet tonight, do you?"
She stopped. Something scraped against the wood floor in the very next room. It was far too late for Aunt Thea to be awake. Perhaps it was one of the servants, though they were normally early to bed as well. She padded over to the room and nudged the door open.
---
Under The Covers
Seduce Me is the launch book for my Legend Hunters series, an idea I had about a hero-centered series of treasure hunters and would-be archaeologists. They are the men of Solomon's, a gentleman's club devoted to those who chase myths. And when I was brainstorming the series and coming up with the myths I wanted to write about, the first idea I had was, of course, Pandora's Box. I've always been interested in Greek mythology and this one in particular is fascinating. And it's always had sexy connotations evoking the very image of forbidden fruit. So when it came time to write the first book in the series, Pandora was the way to go.
I certainly took some literary license with the story though and came up with my own mythology equipped with a curse. Have to keep those characters up to their necks in danger.
Speaking of characters, let's meet my inspiration behind my cast.
Heroine: Esme Worthington

Inspiration – English actress Eva Green who you might remember as the Bond girl in Casino Royale. I needed a picture that captured Esme's sassiness, but girlish beauty.
Hero: Fielding Grey

Inspiration – Paul Blackthorne. This shot captured the intensity of Fielding yet you catch a glimpse of the pain he's carrying. Love those eyes!
Hero: David Grey aka "The Raven"

Inspiration – Alan Rickman. Because who else do you go to for a truly nasty villain who actually has some sex appeal. When I wrote the Raven's dialogue I could hear Rickman's methodical cadence in my head. He was a perfect fit!
Being a big fan of movies, especially action adventure movies I wanted to capture that feel in the Legend Hunters books. So within the pages of Seduce Me hopefully you'll feel whisked away on a grand adventure and when you close the book you'll reach for your phone to call Steven Spielberg and say, "hey Steve, have I got a story for you!"
---
Foreign Publications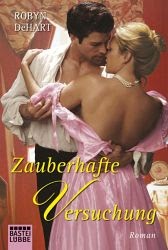 Germany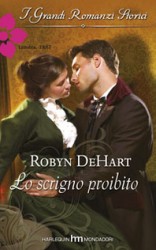 Italy
Additional translation coming soon to Turkey
---
Reviews … From The Blog Tour
More from the Seduce Me Blog Tour >
"I have one word to say–AMAZING! … Robyn has given us one amazingly decadent adventure that grabs you from the word–Go!"
– Romantic Crush Junkies
"I LOVED THIS BOOK! There is just the right amount of adventure and romance…I am still thinking about the last three lines…they made my heart melt."
– The Book Girl
"Loved it! Books like this are why I have such a passion for reading."
– Readaholic
"I couldn't put it down. Esme and Fielding are perfect for each other."
– Carol's Notebook
"I quickly fell in love…of romance, mystery, likeable characters and plenty of adventure. This is one I highly recommend."
– It's Really All About Books
"Seduce Me has a fun blend of romance and adventure. This is my first Robyn DeHart novel and I look forward to reading many more."
– Starting Fresh
"Fans of historical romance will love Seduce Me. After all, there's a dashing not-so-perfect hero, a smart & opinionated damsel-in-distress, danger behind every cobblestone, all wrapped up in secret societies and lost treasures. "
– Drey's Library
"DeHart has created a wonderful story with an intriguing plot that is bound to keep the reader captivated…unique, full of adrenaline pumping action and will more likely than not keep you flipping pages until well into the night."
– A journey of books
"I loved this book, and read it in record time. Adventure, danger, an ancient curse and valuable artifact are thrown into the mix. It all makes for a great story, and a tantalizing historical romance that I found it impossible to put down."
– Just another new blog
"I love the mix of sexy and adventure but then throw in the curse of Pandora's Box and you have a super great read on your hands."
– Maria's space
"DeHart does a superb job of keeping up the reader's interest level. From exclusive gentlemen's clubs to the seediest parts of London, this book has it all; great characters, wonderful atmosphere, steamy romance and lots of adventure."
– Pudgy Penguin Perusals
"If you like fast paced, hard to put down action, intrigue and romance a la Indiana Jones, with a charmingly independent heroine, a handsome treasure hunter, an ancient curse…this is the book for you!"
– Seductive Musings
"I had a great time reading Fielding's and Esme's adventure together. It was like Indiana Jones meets romance."
– Bibliophiles R Us
"a touch of magic and harrowing adventures in the tradition of Indiana Jones or Romancing the Stone, I am thrilled! This is my first book by this author, and it won't be my last."
– This book for free
"This book was so much fun! Thru darkened streets in carriages, down dimly lit corridors, thru old libraries searching for a cryptic diary you are taken on an amazing ride. A great story with a fun plot, well developed characters that almost walk from the pages of the book, and a romance that sizzles upon touch! Seduce Me by Robyn DeHart will seduce you!"
– Chicks with books
"I could smell the dirt, feel a shovel beneath my hands and see a muddy Pandora's box with in my mind. While keeping the danger intense, DeHart does a wonderful job as well of invoking the emotions and ensuring the readers connection to the characters."
– Bloody Bad: A book blog
"This is the first time I have ever read a Historical Romance and I'm greatly pleased with the outcome of it. I'm proud to announce that I am now a fan of the Historical Romance genre."
– Falling off the shelf
---
---
Share this page