Okay so my webmaster asked me last year sometime if I was ready to switch to the WordPress format and for whatever reason I wasn't. But when she asked again this year I jumped at the chance. Now I can manage my blog from here, update more frequently and just be more present around here more often. The lack of updates has been my fault, not my lovely designers so now I should be more on the ball since I can do it whenever I think of something to put on the page.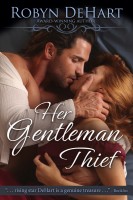 So let's start with the most recent news, I have a new Regency short story available for download on Kindle and Nook for only $0.99! This story, Her Gentleman Thief, was originally part of the Mammoth Book of Regency Romance. The first day it was available on Amazon it cracked the Top 100 in Regency romance. I do hope you'll check it out. Readers are already saying how delightful and fun it is.
For any of you fans who are on Facebook, I have a new author fan page which has links to my Goodreads page and a cool author page gadget with excerpts and whatnot of my books. Check it out and like me, really like me.