The Temptations of Anna Jacobs
Love and justice…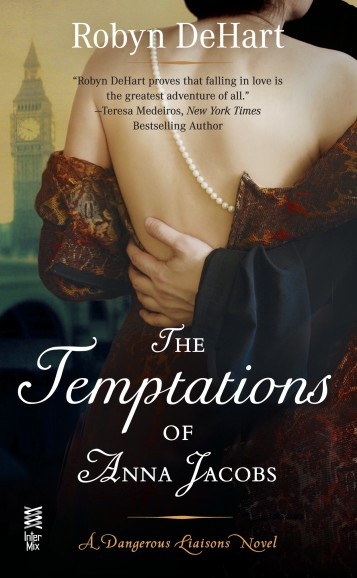 When Drew Foster is released from prison, he doesn't much care about salvaging his soiled reputation. Though he's working undercover, everyone in Victorian London believes him guilty of the Jack the Ripper murders and that his brother paid for his "innocence."
Despite her genteel upbringing, Anna Jacobs is intent on finishing medical school and becoming a physician. Society's ridicule has never bothered her, but when her brother, the Yard's best detective, is scorned for letting Drew go, she confronts the one man who can set the record straight at a ball. She certainly doesn't count on the rogue being dashing and handsome, nor on him stealing a passionate kiss.
Anna's brazen contempt for his dangerous reputation captivates Drew, but he is harboring secrets that make him unfit to court any proper woman. As he finds himself an outsider among his colleagues at Scotland Yard, the feisty beauty offers up her medical knowledge to assist him on the case. But when the real killer returns to London to continue his reign of terror, can Anna find safety in Drew's arms?
on sale April 15, 2014
---
Notable Raves
"…this book was absolutely perfect…" ~The Reading Cafe
"I really loved it! DeHart did an amazing job … characters Anna and Andrew are to die for." ~Books with Tien
"With sweet romance and thrilling mystery, The Temptations of Anna Jacobs was a fantastic historical romance read. It kept me on the edge of my seat and I really enjoyed reading it. Loved it!" ~Imagine a World
"Wow, throw in Jack the Ripper Myth, Victorian London, a feisty heroine and a swoon worthy, hot undercover police officer for Scotland Yard… and you get one of the rare Regency novels I came to adore." ~Bookbeauty
---
Ahh, Temptation…
London, 1889
Anna Jacobs closed her textbook and stifled a yawn. "Simon, I do believe I've had enough. For tonight, that is."
Her older brother looked up from his notes. "When is your examination?"
"Not for a few weeks still." She gathered her books in a tidy pile, then stood. "But I do like to be prepared."
"Indeed. Come along, then, I shall walk you home." Simon carried her books and they stepped out into the cool evening air. The streets were relatively empty, save for a carriage now and again. People were either abed or attending one of the evening's balls.
"Do you think you're any closer to indentifying him?" Anna asked. Simon was the lead investigator on the Jack the Ripper murders. Recently he'd come close to catching him, but the villain had got away.
"I have a few more leads to investigate, but the chief superintendent is losing patience with me," Simon said.
"Well, that is ridiculous. They certainly weren't handling the investigation any better without you."
A ruckus broke out in the alleyway adjacent them. Simon shoved Anna's books at her. "Stay here," he barked.
Then he ran in the direction of the commotion. As best she could tell three men had pinned a fourth on the ground and were taking turns kicking and hitting him. Poor creature.
Simon yelled and the men scattered, leaving the one on the ground alone.
Anna set her books aside and ran to aid her brother.
"Christ, Drew, is that you?" Simon asked. He looked up at his sister. "Anna, help me get him into the house. You can tend his wounds while I find some constables to round up the perpetrators."
---
Under The Covers
Check the Pinterest board for The Temptations of Anna Jacobs
---
Foreign Publications
---
Share this page