Tempted At Every Turn
Ladies' Amateur Sleuth Society series: Book Three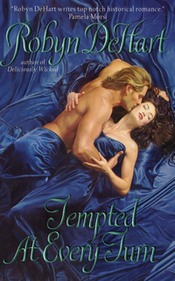 Proper, sensible Willow Mabson will do anything to protect her family. So when Willow finds out that James Sterling – a dashing, arrogant aristocrat working for Scotland Yard – suspects her mother in a recent murder, Willow will do whatever's necessary … even solve the case herself! Of course, this will bring her into a most uncomfortable proximity with the very tantalizing Mister Sterling. And try as she might she finds resisting him her most difficult challenge.
James has always preferred gritty crime scenes to elegant balls. And he can immediately deduce that straight-laced, whip-smart – and exceedingly delectable – Willow isn't your average vapid, shallow socialite. He longs to help release her carefully restrained sensuality and rid her of the belief that losing control can destroy her. But James doesn't count on losing his own heart in the process.
---
Notable Raves
"The battle of the sexes tests more than just wills in this charming Victorian whodunit romance … thoroughly enjoyable mystery … a pleasure for fans."
– Publisher's Weekly
"The whimsical, lively, smart and sassy Ladies' Amateur Sleuth Society is back in DeHart's delightfully sensual, humorous and action-packed story. Like Amanda Quick, DeHart has found the perfect duo to keep you up all night."
– 4-1/2 star Top Pick, Romantic Times Bookreviews
"Two superbly matched protagonists match wits and wiles with wonderfully entertaining results in "Tempted at Every Turn," the latest sparkling addition to Robyn DeHart's superb, mystery-laced Victorian historical romance series."
– Chicago Tribune
"Ms. DeHart is a fabulous writer who captures the reader from the first page to the last … With each page, this exceptional author delivers a story that will leave you breathless and longing for more. TEMPTED AT EVERY TURN is a delightful historical romance that will have you laughing, sighing and rooting for James and Willow to find it in their hearts to admit their feelings as well as solve a crime … this author is definitely on the auto buy list now … "
– Love Romances & More
"Tempted at Every Turn is a bravo good read! The superb dialogue between Willow and James keeps the reader fastened to each page. Once Willow and James get over the rough spots, they are a passionate couple with electric chemistry that weaves wonderfully into the storyline. The customs, and events of the time, really shine in the pages and Ms. DeHart allows the reader to share in the ambience of the complete surroundings. Secondary characters accentuate the story very well. This brilliant romantic story, with a great plot, has all the right elements, and is one rare and extraordinary read, from a talented author."
– Coffee Time Romance
"TEMPTED AT EVERY TURN is a tender love story involving two polar opposites … fireworks go off between them. It is a whole lot of fun seeing these two people spar and banter and eventually find love with each other. James is a great hero! … wonderfully romantic love story … an easy read that has all the qualities that a good romance should have. It even has a place on my keeper shelf … "
– Romance Reader At Heart
"an entertaining late Victorian whodunit … a fun historical romantic mystery…"
– Harriet Klausner
"TEMPTED AT EVERY TURN … is a fun, romantic, suspenseful story. The witty dialogue, interesting secondary characters and the chemistry between Willow and James make for a very enjoyable read. Robyn DeHart has penned an exciting story. I recommend TEMPTED AT EVERY TURN to anyone who enjoys reading a delightful, sassy romance."
– Romance Junkies
"Ms. DeHart's third Ladies' Amateur Sleuth Society novel has an irresistible charm. The characters are an unconventional delight."
– Fresh Fiction
---
Awards
2007 Romantic Times BookClub Reviewers' Choice Award Nominee for Best Romantic Historical Mystery/Gothic
---
Ahh, Temptation…
Her eyes flared.
He chuckled. He'd love to see that passion, that fire, put to something more pleasurable and productive. "There is one thing I've been curious about. How do you get all your details? You know things about the investigations that are not printed in the papers."
Her lips tightened into more of a line, if that were possible. "I will not tell you that." She shifted in her seat as if uncomfortable. "Perhaps you did not owe me an explanation, but you could have, at the very least, acknowledged my letters. It is the polite thing to do. Be that as it may, your disregard for proper procedure is flagrant, at best," Willow pointed out.
"I appreciate your concern, but I can assure you that regardless of my methods, I am quite capable of solving my assigned cases. Some might even say I'm rather accomplished at my job."
"Were I to have the same resources the Metropolitan Police offers you…" her sentence trailed off without her completing her thought.
He leaned forward and scraped at the day's growth on his chin. She was bold, but he could beat her at her own game. "I do believe you're making quite a daring assumption, Miss Mabson. You seem to imply that you might be better than I at solving these dastardly crimes and catching criminals," he said.
I did not say that," she said.
"Oh, but you seem to have been insinuating precisely that. Or were you simply boasting?"
She stiffened.
He'd hit a nerve. He smiled.
"No, I was not boasting," she said, her voice lined with defiance.
"Then you believe you could solve a case?"
She eyed him for several moments before she finally nodded, almost begrudgingly. "Yes, I do."
---
Under The Covers
Tempted at Every Turn has been out about a month now and I've already received such great reader feedback about Willow and James. I normally do my Under the Covers feature on my website and I will put this there too, but my Jaunty friends are getting a sneak peek at the behind the scenes.
Heroine: Willow Mabson
Inspiration – actually Anna Paquin, not someone I would ordinarily look to for a heroine, but this picture seemed to capture the essence of Willow for me.
Hero: James Sterling
Inspiration – Josh Holloway, I actually had a difficult time "finding" James. And as silly as it may sound, I get stuck if I can't find THE right picture. But then, I found it…
Yowza! It totally embodied his arrogance and sexiness.
It took me a while to narrow down the subject matter I wanted to deal with in the mystery subplot of the book. I jumped around to several different ideas, even one about a kidnapped show dog – as it turns out, that would have been a WAY different book. The idea I ended up with worked so much better.
Anytime you have a really starched, repressed, uptight society, you'll have an underground movement that swings the other way. As most you know the Victorian era is known not only for the industrial revolution, but also for their strict morality. But while so many were busy being prim and proper, prostitution was at an all-time high, and there was an emergence of both erotic literature and photography. It was the latter that I chose to use and it worked perfectly with Willow's rather rigid nature. Needless to say it was rather interesting research.
The other aspect I tackled was Bi-polar disorder, a tricky feat for a historical novel when none of the modern terminology would have applied. I have a friend who has family experience with this and was able to assist me with making sure I portrayed the illness appropriately, especially in a day and age when we didn't have the benefit of the medications.
On top of all of this, I had all the Scotland Yard (technically Metropolitan Police) procedural stuff to work out. Needless to say it was a really interesting book to research. And the characters are probably my favorite thus far.
---
---
Share this page