Treasure Me
The Legend Hunter Series: Book Three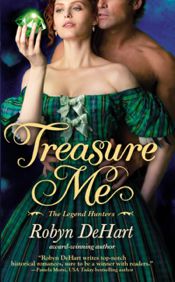 Graeme Langford, Duke of Rothmore, has always been torn between his beloved Scottish homeland and his duty to the English crown. But his is an adventurer's soul and nothing keeps him from his dream: finding a long-lost stone hidden near Loch Ness.
Bookish Vanessa Pembrooke heads to the Highlands looking for traces of the legendary beast–not a husband. Yet when fate binds her to Graeme, it's not all bad: he's the first man ever to share her hunger for adventure. As their passion grows, so too does certain danger, and they'll soon risk everything to keep the jewel out of a murder's hands. But can they do so without losing the greatest treasure of all… their love?
---
Notable Raves
"4 1/2 star TOP PICK! The Legend Hunters, those seekers of treasures and myths, return for their last enthralling adventure/romance … fast-paced, thrilling, roller-coaster tale … Not only does DeHart satisfy readers craving adventure, she adds three-dimensional characters and a passionate love story that will delight."
– RT BookReviews
"Robyn DeHart has become one of my favorite authors…where she shines is in creating character…continued her series with a book chock full of fun and adventure, not neglecting steamy, tender (and sometimes hilarious) love scenes. DeHart's romances are tender and adventurous, and funny enough you may laugh your nethers off."
– FreshFiction
"DeHart delivers plenty of adventure and suspense along with the romance: secret passages, ancient encoded texts, and a double helping of theft, blackmail, kidnapping, and murder."
– Publishers Weekly 
---
Five Fun Facts
Treasure Me is sort of the first romance I ever wrote. Well, really I kept the main character's names and the basic setting and the concept of characters that fall in love amidst danger and adventure at Loch Ness and tossed out the rest and wrote a brand new book. But in a way, it still feels like my first book.
The nasty villain from Seduce Me, The Raven, is back and causes all sorts of trouble for Graeme and Vanessa.
The Stone of Destiny is a real antiquity that has been used in most of the coronations of English Kings. The English did steal it from the Scots and until 1996 it remained in Westminster Abbey. Now it is back in Scotland with the understanding that it shall be returned to Westminster for the use in coronations.
Sightings of the Loch Ness monster date back to the 7th century and the early ones report seeing a creature walking on land.
Treasure Me is the first book I've written set in the lovely Highlands of Scotland though admittedly Graeme and Vanessa spend an awful lot of time in caves beneath Urquhart Castle.

 
---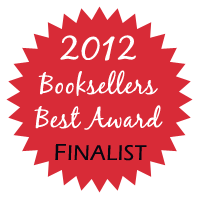 Awards
RT Reviewer's Choice Award Nominee for Best Historical Romantic Adventure
Booksellers Best Finalist, Best Short Historical
RomCon Reader's Crown Award Nominee, Best Historical
---
Ahh, Temptation…
Excerpt from Treasure Me
Vanessa made her way quickly through the noisy pub and took a seat at an empty table. Heavy wood paneling covered nearly every surface in the room. The floor currently acted as a small pool for spilled ale. But she needed to eat.
Gingerly she opened Jeremy's notes and smoothed her hand across them. This was precisely the sort of place that Jeremy would balk at entering. He would despair at even laying his precious notes on the sticky surface. So she did it regardless, knowing that he wouldn't be needing them anymore. Furthermore, he shouldn't have left them lying around while he was off dallying with Violet.
All around her, large and hairy Scottish men sat at the tables slamming their mugs together, cursing and picking fights with one another. Were it not for her considerable practice at ignoring noise to focus on work, she might have been more distracted.
---
Under The Covers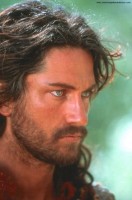 Treasure Me is the third and final installment of my Legend Hunters trilogy and I must admit leaving these men behind makes me a little sad. I've had such great fun weaving these stories, coming up with the danger and adventure and spinning my own version of myths we all love. 
In Treasure Me we head to Loch Ness in search of a few treasures, one of which hidden in the caves beneath Urquhart Castle and the other the famed biblical relic, the Stone of Destiny (which coincidentally can be seen in The King's Speech). It pairs up Graeme whom readers met in Seduce Me, he's the scottie-hottie and Vanessa, a scholar in her own right, she's an amateur paleontologist.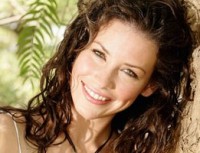 So here are my inspirations for my characters.
Okay so you can thank me now for the lovely picture of Gerard Butler cause yummy! Yes, I got to look at that while I was writing this book. How awesome is my job?! The best part is casting my hero because I have to look at tons of pictures of hot men, it's all purely research, I just want to make you readers happy.Feel free to look at that picture of Gerard while you read it, you have my permission, tell your husbands, it's part of your job as a reader to get the appropriate image in your mind of my character.
---
Foreign Publications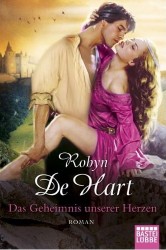 Germany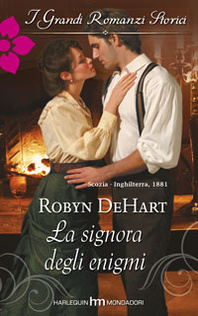 Italy
Additional translation coming soon to Turkey
---
Reviews …
"We have a winner! A perfect 10. [DeHart] weaves a story like a fine tapestry – rich, colorful and compelling but so tightly bound there are never any holes… hooked me from page one and left me ravenous for more at the end."
– The Season
"… a fabulous tale that grips the audience from start to finish as if Indiana Jones was working Victorian Scotland."
– Harriet Klausner
"I was hooked on the first page and could not put this book down, I fell asleep with it in my hand … lol. I rated this book a HIGH 5 out of 5. Fantastic read."
– NightOwlReviews
---
---
Share this page