Undercover With the Earl
Undercover With the Earl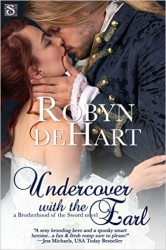 To capture the most eligible bachelor in London…

London, 1838

The handsome Earl of Somersby may just be the most eligible bachelor in London, but has no interest in a wife. As a member of the Brotherhood, Bennett Haile is far more vested in his undercover duties for the crown and protecting the Queen from would-be assassins. For now he has the perfect tool with which to lure out the villains-a young woman with an uncanny likeness to the queen.

The spirited Evelyn Marrington is about to live out every country girl's dream-becoming royalty overnight. Under the tutelage of the arrogant Earl of Somersby, she'll have to fool the entire court that she is, in fact, the queen. But as danger threatens from every side, Bennett realizes that his lovely little protegé isn't just placing her life in his hands… She's stealing his heart.
---
Notable Raves
"A sexy brooding hero and a spunky smart heroine…a fun & fresh romp sure to please!"
~Jess Michaels, USA Today Bestseller 
"Ms. DeHart weaves a story so amazing that you feel yourself standing in the room experiencing the adventure, watching love blossom, and ready to join whatever chaos ensues."  ~Mary Gramlich
"Robyn DeHart is such a fun writer! She is an automatic click on my to-read list." ~Diana Silva
"This book was full of adventure and intrigue. The romance between the two characters was engaging and exciting." ~Kilts and Swords
---
Ahh, Temptation…
From Chapter One of Undercover With the Earl
Essex countryside, just outside of London, 1838
It is a truth universally known that a girl entering her twenty-first year must be in want of a husband. But it was not a truth that Evelyn Marrington took to heart. She had no desire to marry now or any other time. Instead, she wanted to hole herself up in a sweet little cottage and write adventurous novels until her hair greyed and no one cared if she was a spinster.
Due to her family's financial straights and their middling social standing, Evie's chances of doing just that seemed rather good. Since then, however, her two older sisters had made very advantageous matches, thrusting their entire family into a more elevated social sphere. Flush with that success, Evie's mother was now determined to land an equally impressive husband for her middle daughter. Never mind that Evie's own wishes were modest and veered away from marriage. Her family obviously saw things quite differently, a fact she could not ignore with her mother pointing to every eligible man in the vicinity.
At the moment Evelyn longed to have a book in her hand. She could close her eyes and imagine the sound of the paper turning, the bold print of the words beckoning her into their adventure. Rather, she stood at the edge of the small ballroom doing her best to blend into the tapestry behind her while the rest of the guests of this house party danced merrily.
"Evelyn, dear, if you continue to sink yourself into the background, how are any of the men to see you and ask you to dance?" her mother said placing a forceful hand on Evie's back, effectively shoving her forward.
"I do not care for dancing," Evelyn said knowing full well that her protests would fall on deaf ears.
"Nonsense, what girl doesn't care to dance?" her mother asked.
There wasn't much that she and her mother agreed upon except for the fact that they didn't agree on much. They were as different as the morning was from the night, and though Evelyn did her best to refuse, her mother still worked her hardest to squeeze her middle daughter into the pretty package that was a perfect debutante. One might think that already achieving success with her first two daughters would have been enough to appease the Marrington matriarch, but she was not so easily pacified.
Evelyn sat precisely in the middle of the Marrington children. Portia and Jillian were her elder sisters and then came Catherine and Meghan. The two eldest Marrington girls were beautiful, lovely, poised and had made a splash in Society. Portia was already married to the handsome and kind Viscount Handlebrook and the Earl of Bellview had recently asked for Jillian's hand. Which left Evelyn uncomfortably in the center of attention as the next Marrington daughter to find herself a good match.
---
Under The Covers
Pinterest board for Undercover With the Earl where you can see inspiration pics of the characters, research and setting elements and the charm I got my book charm bracelet. 
---
Share this page